Scandihooligan Run # 144


31.08.2002


We had to stop at Gagarin (first man in space) before the sign up, to cool down
with some beerīs looking at old Hash photos.

Here at the first Beer Stop. The Hashers are really enjoying them selves
in the unusual good whether this Summer day

Well I really donīt remember why I got Iced, but the Hares usually have at least
one trip on the Ice. I have the "honor" of wearing The Scandihooligan Hash Shit Toilet seat.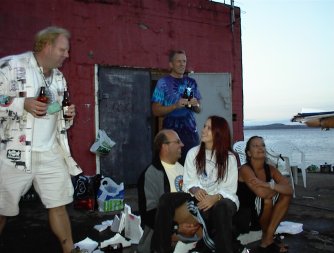 At this run we had 3 New Names. First we se Gagarin and Abdominator performing
the Baptism.The New Names are: I Scream Baby, Cherry Popper and Plastic Fantastic